Fragmentation by Unity?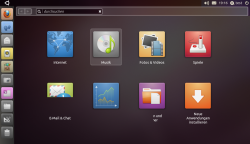 I still think the early announcement was a actually good move. Mark Shuttleworth, almighty mastermind behind Ubuntu - the wildly popular Linux distro that claims to be "for human beings" (as if you wouldn't know) - stated that the GNOME Shell named "Unity", developed for the Ubuntu Netbook Edition, will also be the default desktop for regular Ubuntu on the next version, therefor deciding against the "real" GNOME shell that is to come with the next GNOME major version.

Much noise has been caused by this proclamation. As usual in the last time on Ubuntu topics the "sky falling" fraction is ... well, maybe the biggest, but most certainly the loudest. Somehow I think I want to drop my own note on this controversy.

First: I think it is actually pointless to judge the possible success of Unity by the version that we currently see on netbooks running Ubuntu 10.10. This one was really cut to size for that device class and the version that we shall see 5 months later for the "real" desktop I'm sure will not have many in common with it. So we do not have to discuss its awful performance and the full screen window mode.
What this decision instead really means is a clear rejection of the GNOME 3 shell. With it the GNOME team tried to inject some innovation to the desktop with new concepts, and while I clearly applaud the general will to do so it currently looks like nobody likes it and GNOME is pushing this on against the clear opinion of about everybody else.
So Canonical instead is to develop their own version of the "next generation" desktop and use the already existing brand "Unity" for it to ... well ... merely have some name unity between the editions. And generally this makes sense when both editions, besides their different screen and resource usage, will use the same working concepts.

On to the next page...